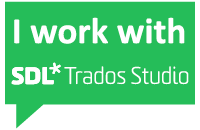 Interested? Then you will want to know how much a translation or text by Casper Context will cost you. For the exact pricing, feel free to contact me. In the table below is shown how the price will be determined.
Translation
Translation
EN – NL
The price of translating your text depends on the word count, the difficulty and the file format. I use advanced translation software, such as the popular Trados Studio, to keep my prices as low as possible.
Proofreading
EN – NL
I can check your text or translation for linguistic errors and mistranslations. The quality of your copy or translation is an important element in determining the price.
Machine editing
EN – NL
Machine translation is growing more popular. I don't use it myself, because translation is expert work. However, on request I can post-edit the output of a machine translation supplied by you. The price is determined by the output quality.
Hourly rate
Do you need a linguistic expert, but is your job not in any of the categories above? For jobs not calculated by word count, I use an hourly rate.
Minimum rate
I apply a minimum rate of EUR 39.00 (ex. VAT) per job.
Copywriting
If you want Casper Context to write a text for you, the rate strongly relates to your requirements. Should the entire text be conceived from beginning to end, or is there a concept text to work with? Anything is possible, whether you only want a short check of a text you have written yourself, or a comprehensive, detailed process to create a text that matches your needs exactly. Since a higher word count doesn't necessarily mean a better text, copywriting will be charged by the hourly rate rather than by a word rate. Feel free to ask for an offer without engagement.